Hey Ladies! Do you want to know what's going on with Women's Ministry? Join us in the cafe from 11:15 to 11:45 on April 24 for a cup of coffee and a short time of connection. Our Women's Ministry leadership team is eager to get to know all of you.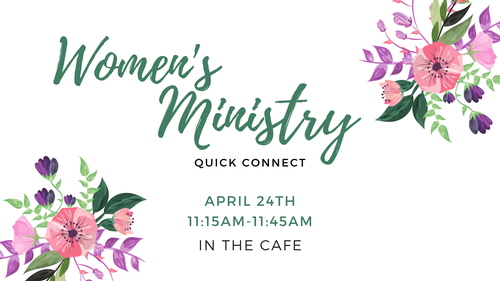 Some of the flower arrangements from the event will be donated to local shut-ins/care home.
Click the link below to sign up!
Women's Book Club groups will discuss the many challenges that women face today in developing connections including:
How to overcome conflict so that conflict can strengthen relationships rather than destroythem.
Overcoming barriers to making new friends.
How to engage in authentic conversations.
Developing connection in a world that promotes isolation.
Check out Jennie Allen's podcast on "Find Your People" with the link below!
Women's Ministry and Vessels
Crossroads Women's Ministry is committed to mentoring young women. We are committed to provide them the tools and Biblical truths they need to build a strong, personal foundation of faith. Our Vessels ministry provides a great opportunity to fulfill these commitments.

Vessels is a Christian club for girls (grades 3rd - 6th) created to explore what it means to be a woman of God. 2 Corinthians 4:7 tells us that we are God's "vessels" - empty containers that can be filled. Our vessel is our life. We can fill it with things of this world - money, fame, friends, popularity, material things. Or, we can fill it with the things of God's treasure! When we are filled with God's treasure (things of true value and significance), then we can become the most beautiful version of ourselves, grow up to be strong in faith, lead well, and to go forth into the world and proclaim the name of Jesus. When a girl understands how to use these tools to fill her vessel with the things of God, she discovers His great plan and purpose for her life. Then she can become the most beautiful version of herself.